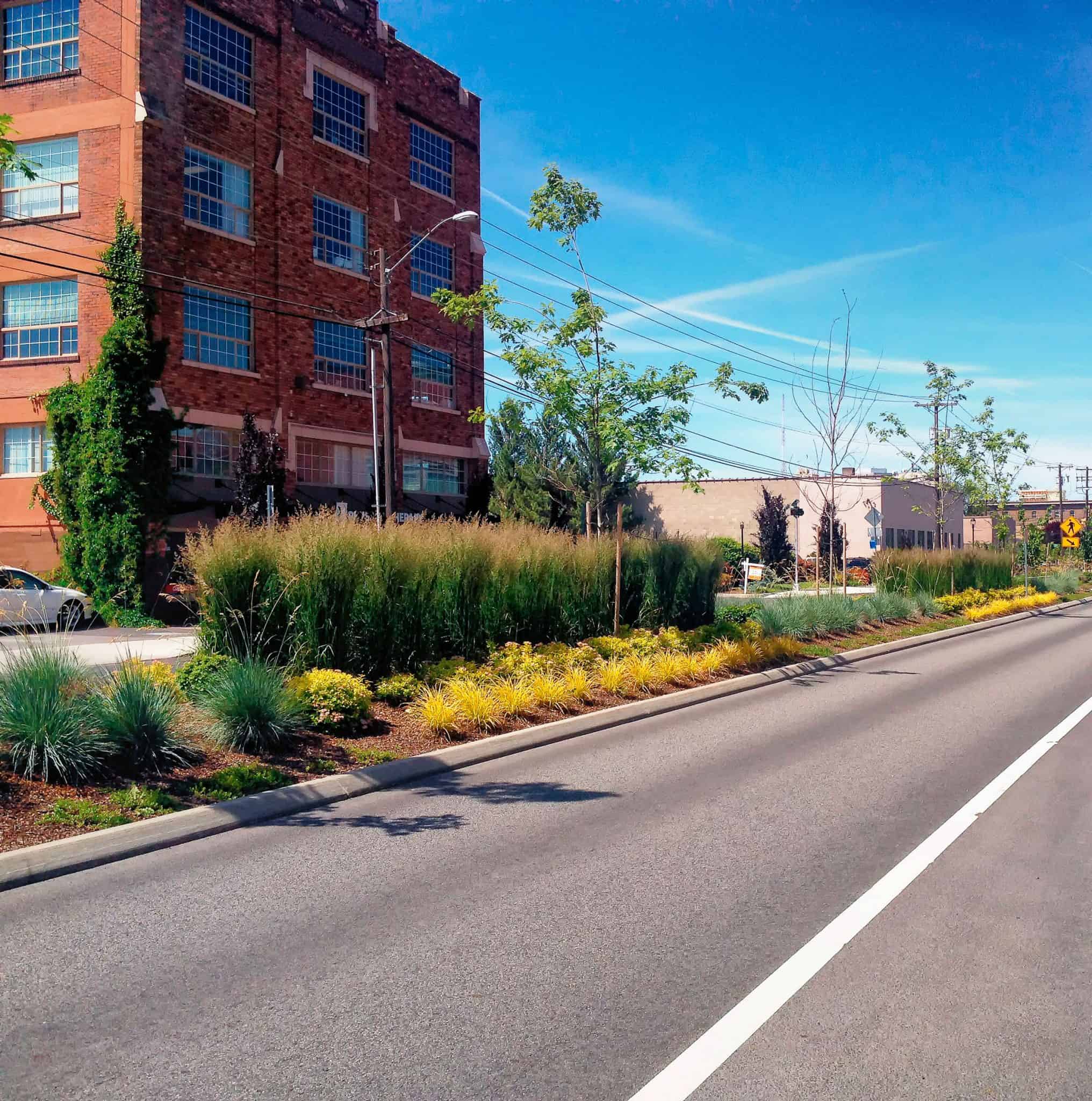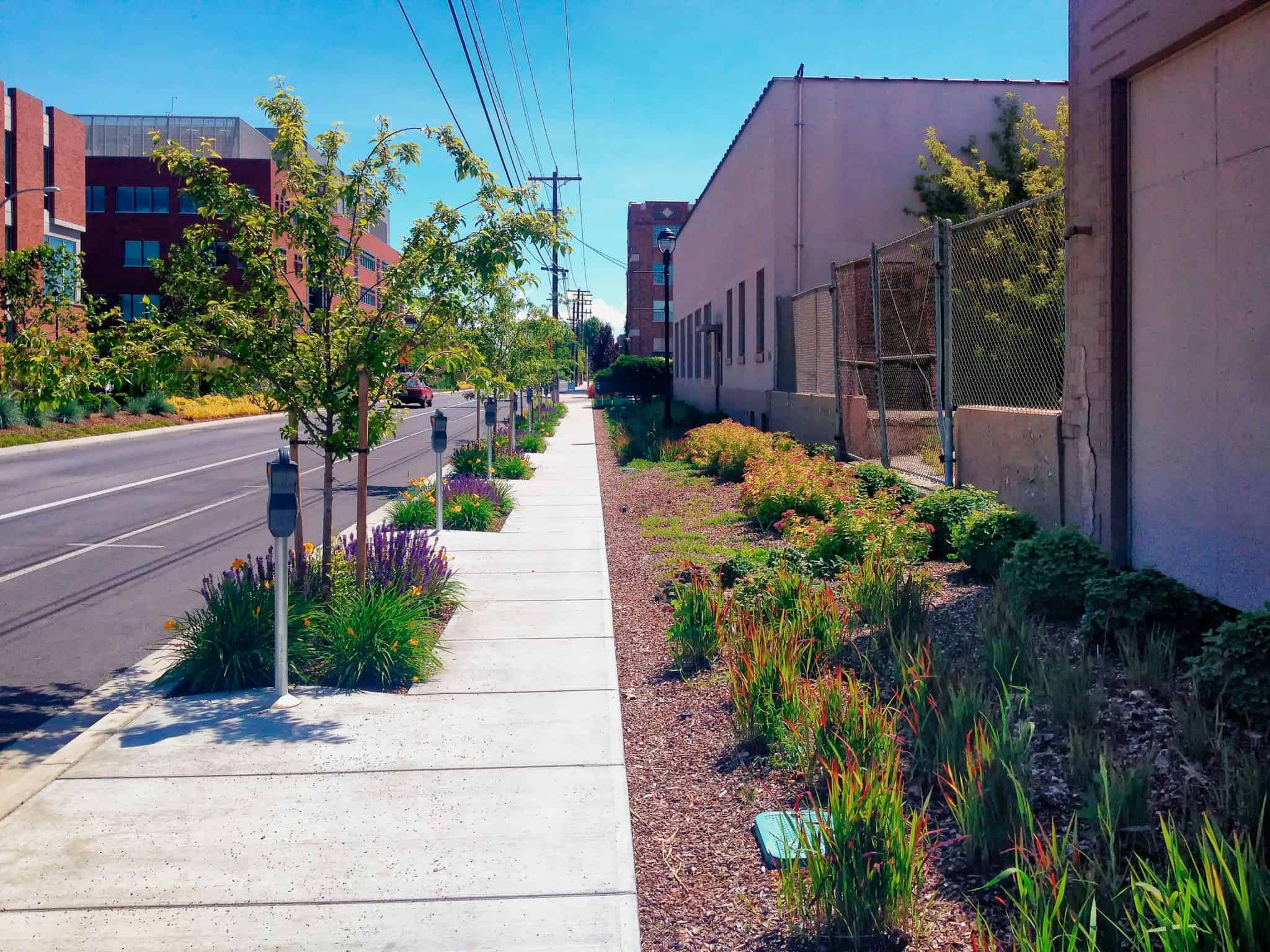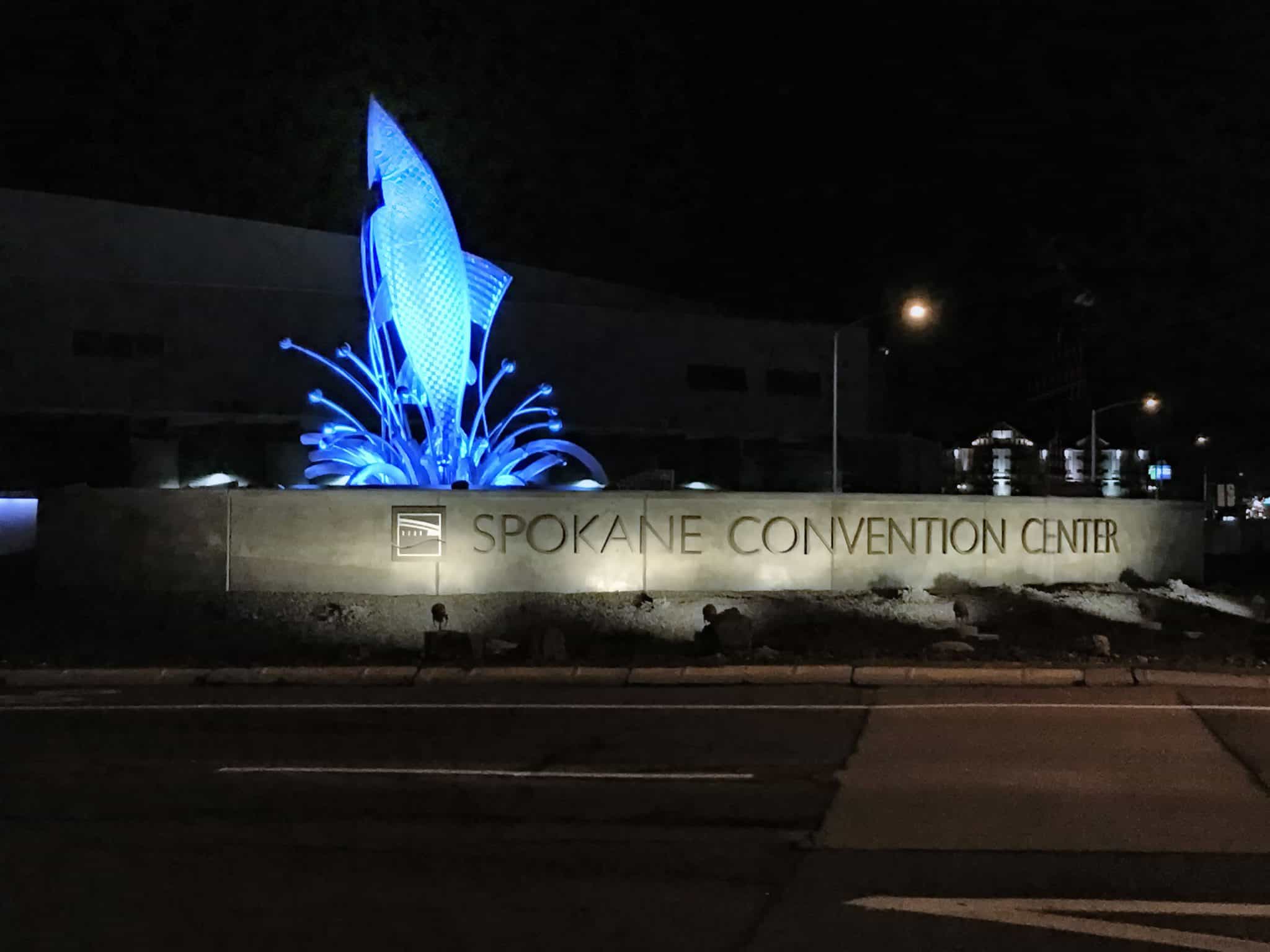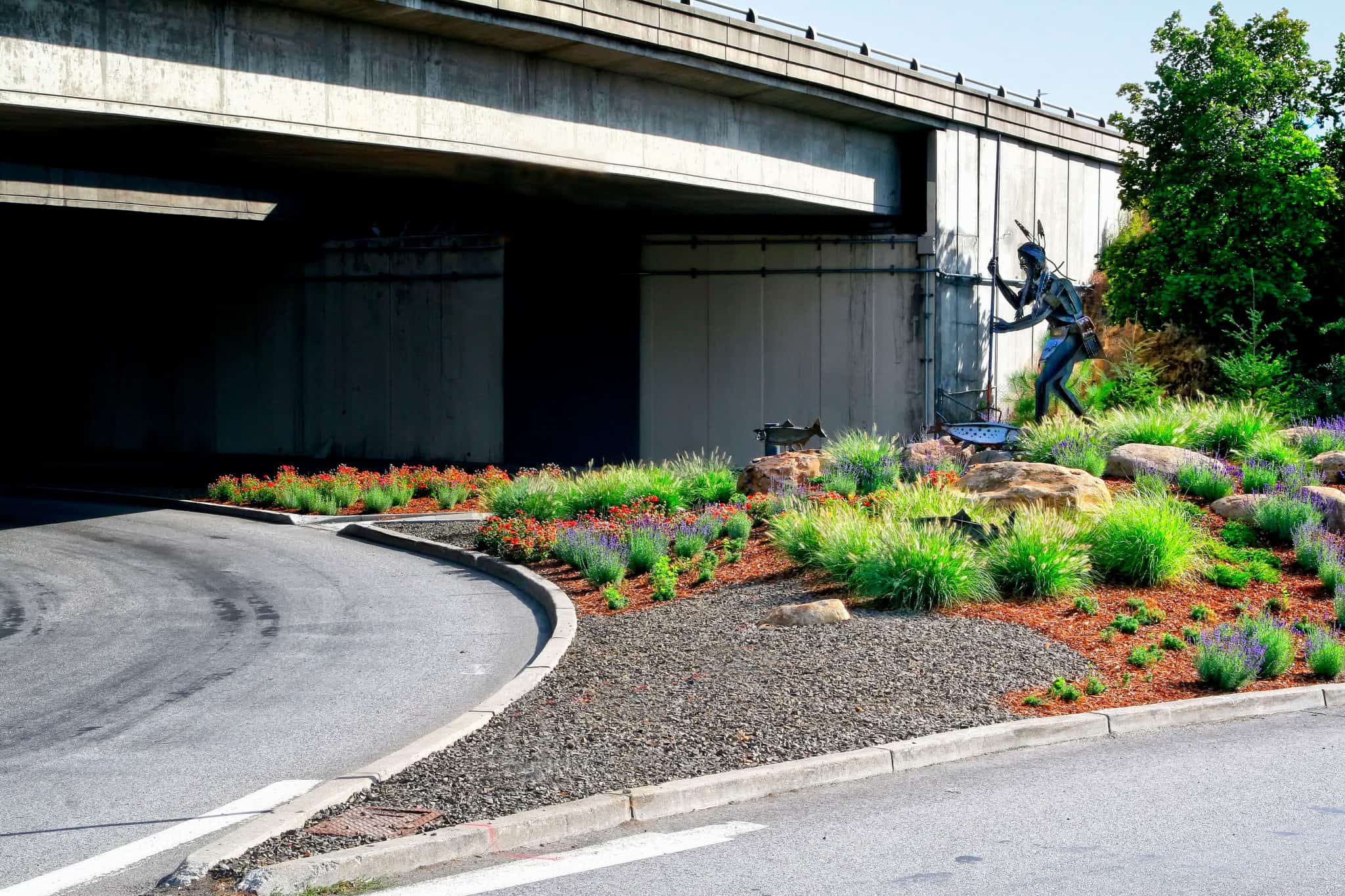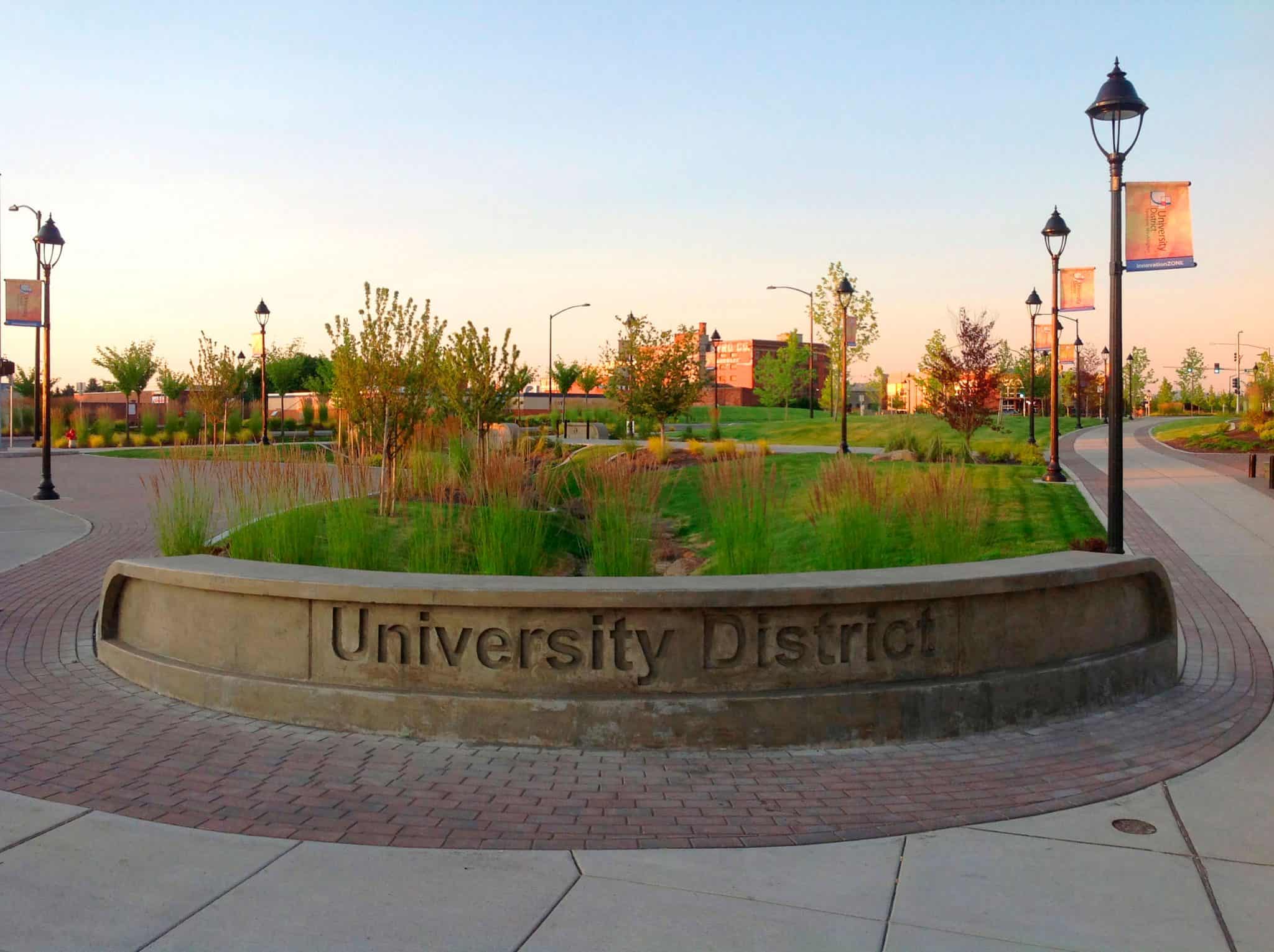 CLIENT
   City of Spokane, Spokane Public Facilities District

LOCATION
   Spokane, WA
City of Spokane Division Gateway Projects
Spokane Falls Boulevard: SPVV was responsible for the creation of both landscape and irrigation plans for the central traffic islands, tree plantings, and adjacent landscaped areas within the public right of way, as well as assisting with the continuation of traffic calming measures, lighting considerations, adjacent parking needs, and pedestrian crossings. Unique landscape elements include concrete finishes consistent with WSU Spokane Campus standards and City of Spokane requirements.
Division Street Triangle: This project includes a simple and understated landscape design to place more visual emphasis on a sculpture by Ken Spiering that ties in with the fish artwork along the Convention Center barrier. The work involved removal of an extensive, bare-asphalt area currently covering the triangle, installation of Spiering's "Dance of the Redband" sculpture, re-sculpting of the landform to create a landscape evocative of both waves and water, and new lighting to emphasize both the sculpture and the mature trees that remain in the area. With traffic control requirements unchanged, SPVV redesigned the concrete vehicle barrier on the north side of the site to reflect a more natural material: dark brown basalt, but cast into a standard Jersey barrier. "Dance of the Redband," a sculpture of stainless steel and enameled copper formed as a redband trout (which is native to the Spokane River), is approximately twenty-one feet tall and constructed on a new five-foot-tall earthen berm. The berm is landscaped with low groundcovers in blues and greens, with ornamental grasses planted at the north and west ends of the island. A concrete monolithic sign is provided as the gateway to Spokane's Convention Center District, providing visitors simple and clear direction to the new Convention Center and adjacent hotels.
Division/I-90: Working with a design concept envisioned by the City of Spokane (along with numerous stakeholders), SPVV was responsible for the creation of landscape and irrigation plans, as well as the design of vehicle barriers and pedestrian screening that also serves as a decorative art display along Division Street. The area, faced with challenges from panhandlers, saw a dramatic transformation with the integration of new cast-in-place traffic barriers that resemble basalt veneer; the art screen/pedestrian barrier; new landscaping, lighting, and irrigation; and a higher level of ongoing maintenance than has been provided in the past.
Martin Luther King Jr. Way: An extension of Riverside Avenue, MLK Jr. Way is a federally funded project under a pedestrian safety enhancement grant. SPVV assisted the engineering staff with inventory, analysis, surface feature design, and historic research. Primary design responsibilities included a gateway at the corner of Division Street and Riverside Avenue and landscape treatment. The second phase of the project extends MLK Jr. Way to Erie Street, providing better access throughout the WSU Spokane campus and to the Iron Bridge development.