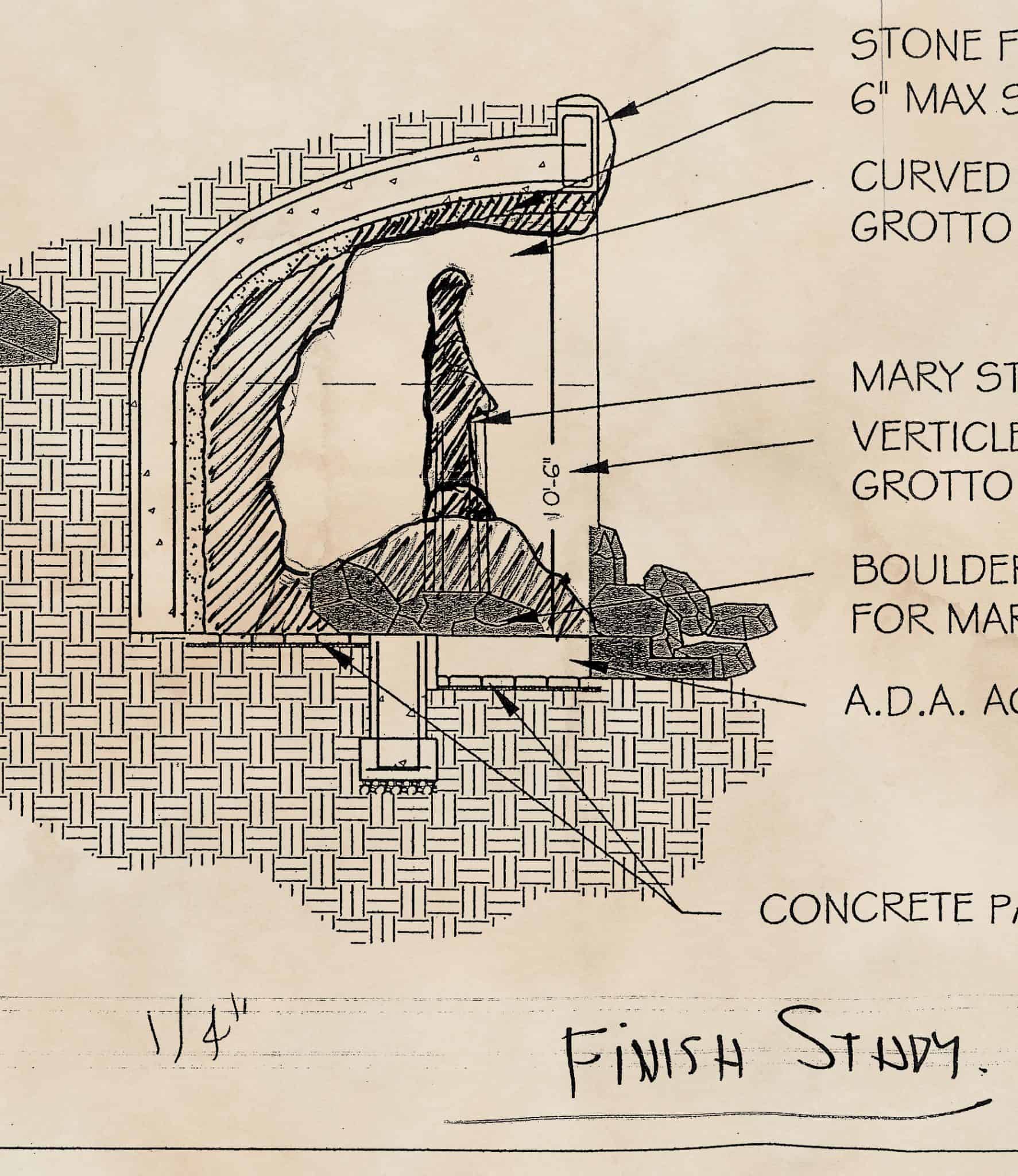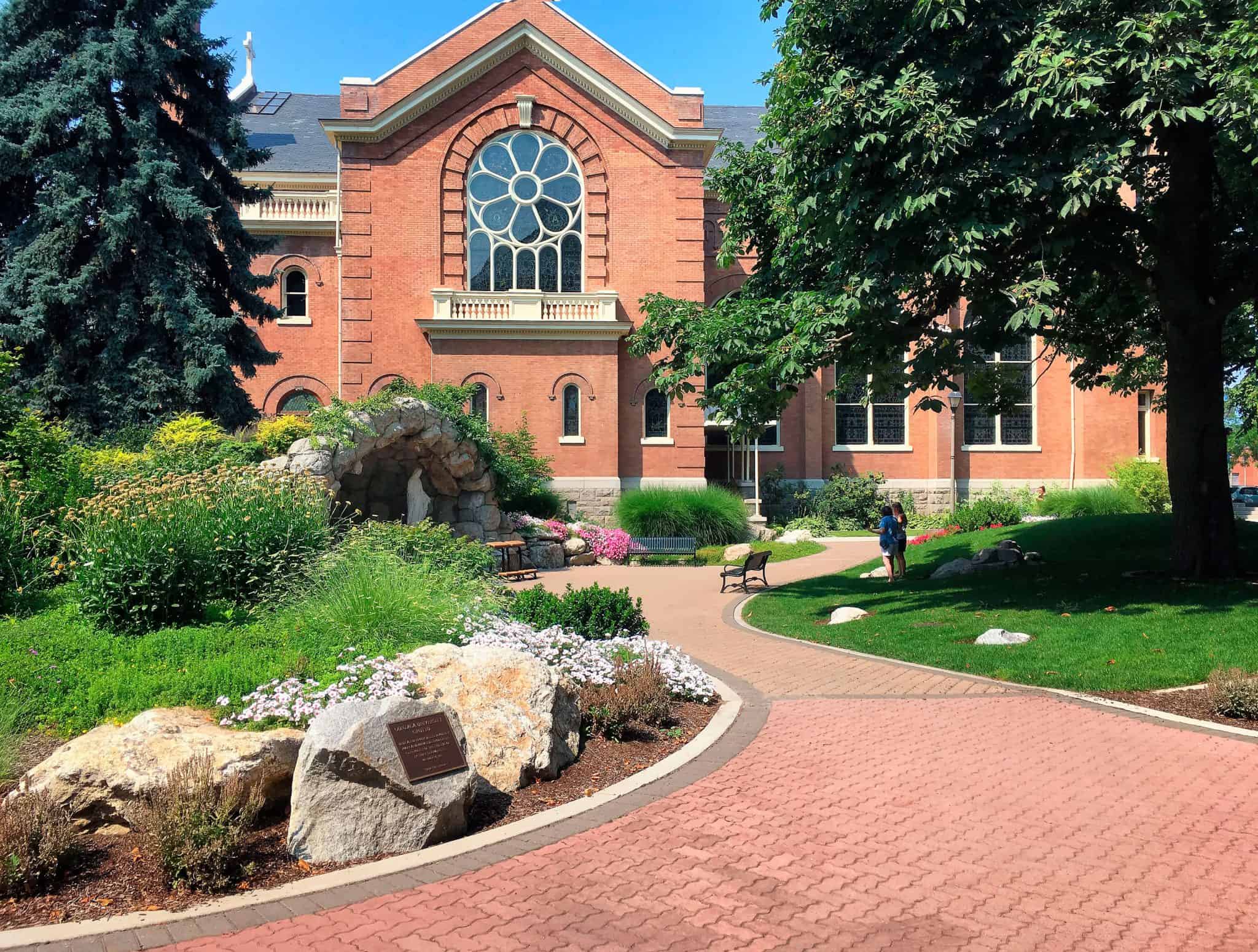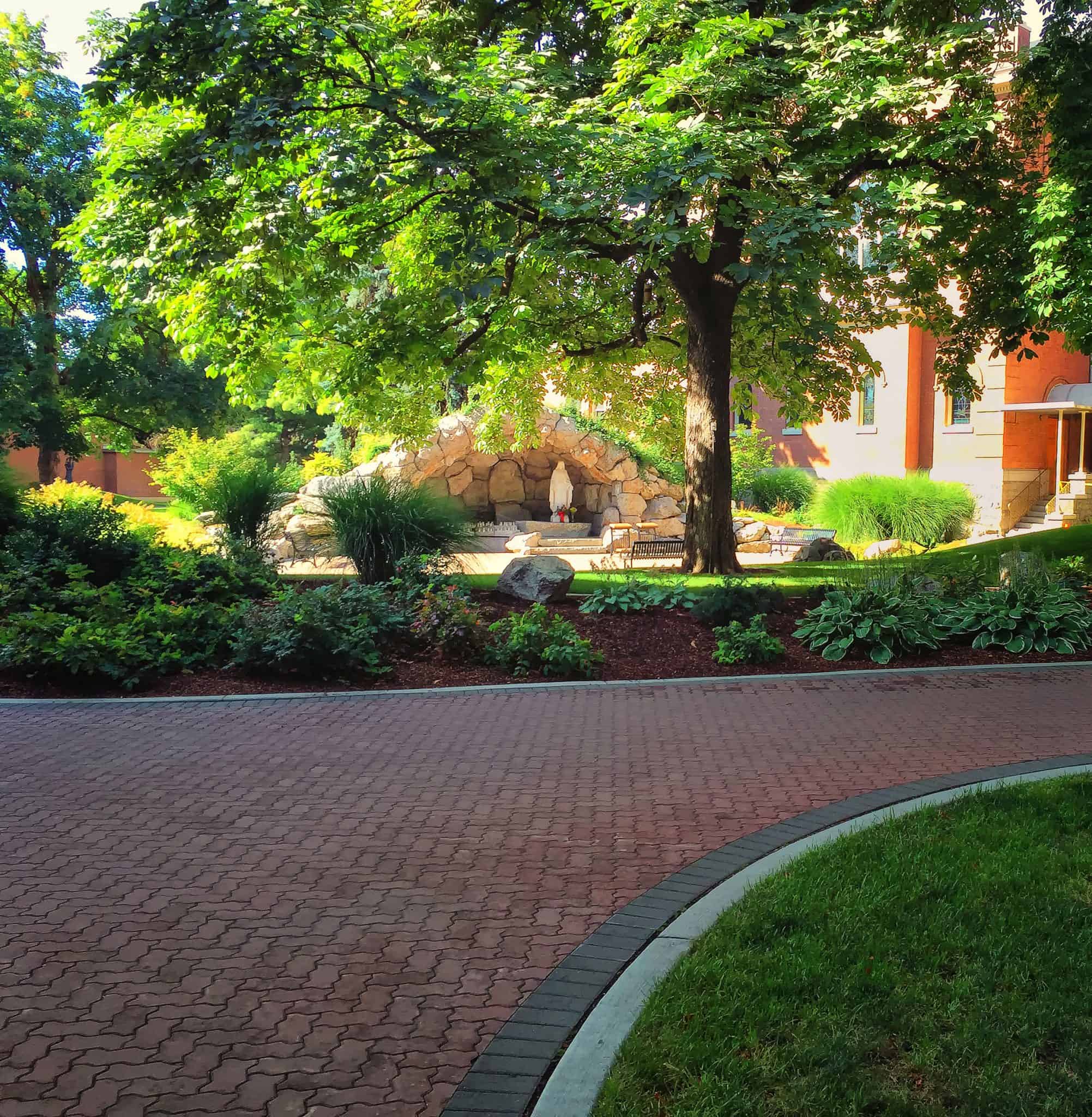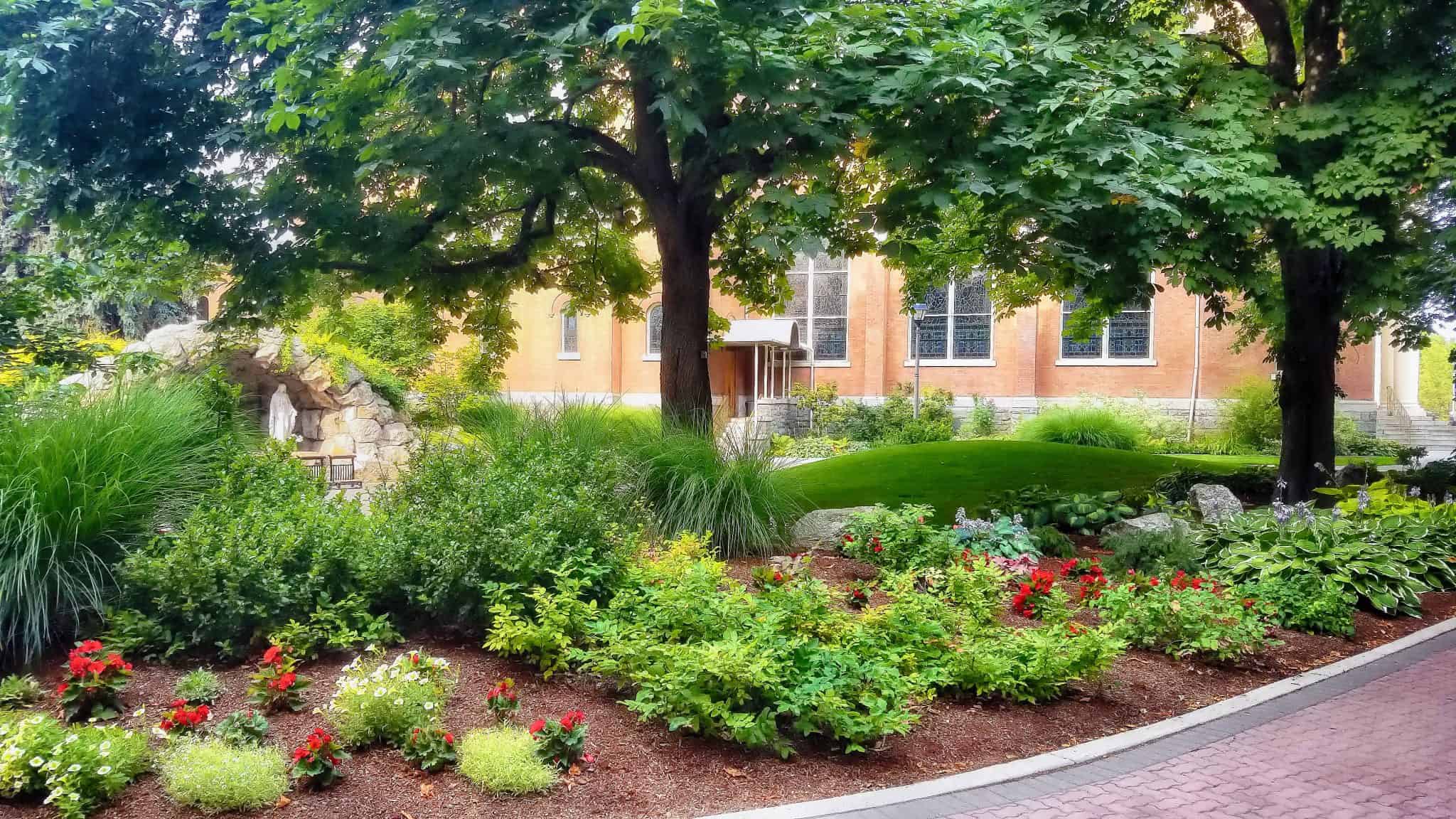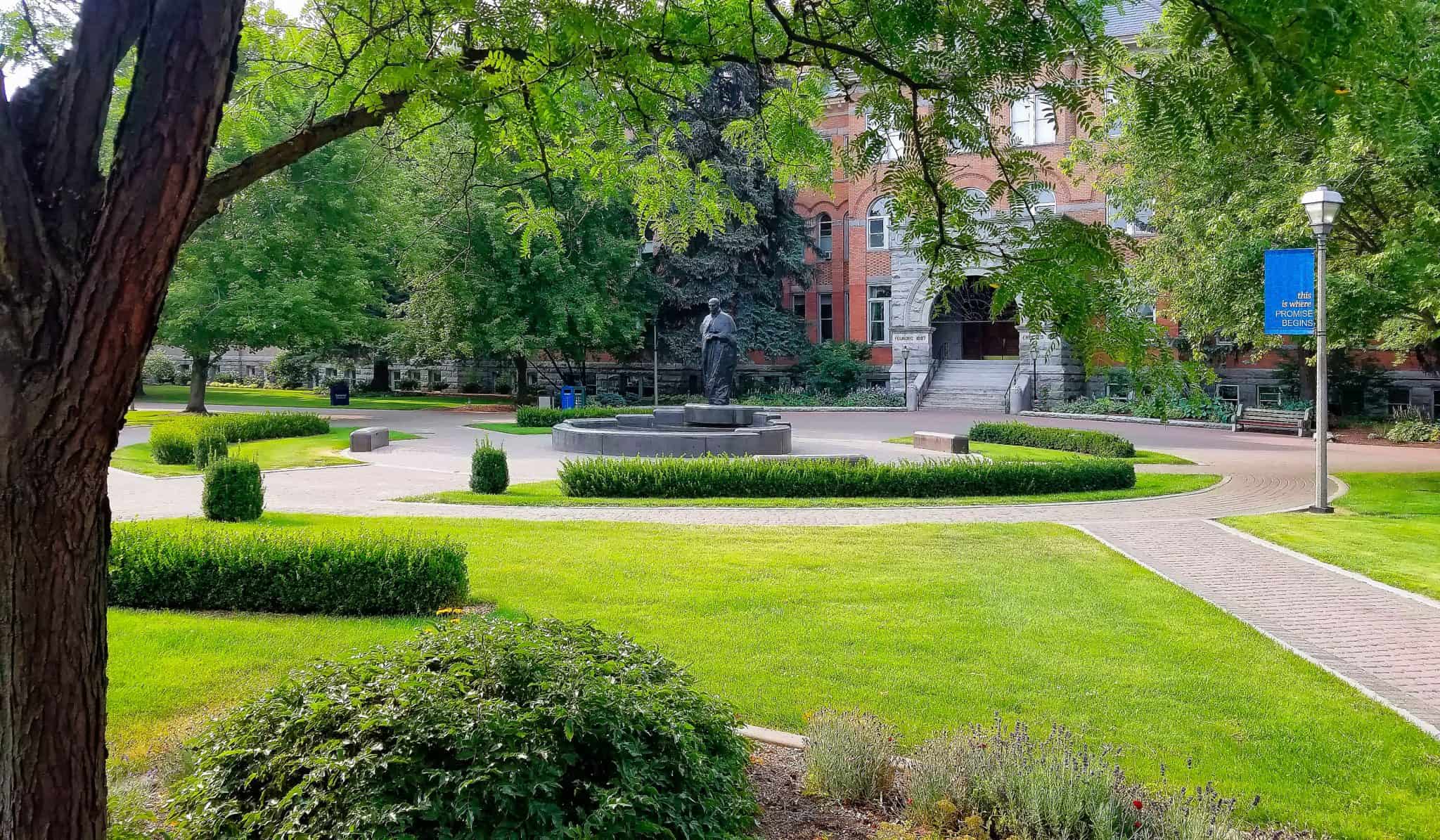 CLIENT
   Gonzaga University

LOCATION
   Spokane, WA
Gonzaga University Grotto, College Hall
Grotto: A place for contemplation, worship, and reflection in the heart of the Gonzaga campus, the Gonzaga Grotto project included design of a structural concrete shell, sculpted concrete, natural granite, a small waterfall, and provisions for votive candles and prayer. Located between St. Aloysius Cathedral and College Hall – where students have access on a daily basis – the Grotto includes a life-size statue of the Virgin Mary, modest paved courtyard for larger services, soft accent lighting of the Italian sculpture and stonework, and moonlighting of the space from unobtrusive light fixtures suspended in large trees nearby.
College Hall: SPVV worked with Gonzaga University and sculptor George Carlson to provide a new entry experience for students, alumni, faculty, and guests at the main entrance of the university. The sculpture and surrounding landscape create a dynamic sense of welcome as visitors approach the Administration Building, now known as College Hall. The project involved developing a series of design concepts that illustrated options for redefining the pedestrian experience at the main entry, separating vehicles and service functions, and incorporating new landscape treatments more respectful of the scale of the historic hall. The final design, developed with extensive input from the sculptor, includes a central water element created in tiers from cast, polished concrete with a bronze sculpture of St. Ignatius Loyola as the focal point. St. Ignatius's influence on faith is reflected in the ripples formed by the water feature; this effect was achieved through the use of polished copper bands set in black granite. Relatively still water provides a reflective surface throughout warmer months of the year, and passersby are compelled to reach through the water and touch the stone – affording the opportunity to witness their own influence on the water as ripples are created by their hands. A radial pedestrian paving pattern originates at the fountain, creating additional ripples that move outward in a circular pattern nearly one hundred feet from the water feature. Twelve columnar yew, reflective of the Apostles' serving witness to St. Ignatius, lead people toward the sculpture. Teak benches placed around the perimeter of the sculpture serve as a place for reflection and rest. As landscaping matures, sheared yew and privet hedges will provide additional landscape sculptures to frame views of the installation.
PROJECT TYPE: higher education and campus, religious
CLIENT: Gonzaga University
COLLABORATORS: George Carlson, AM Landshaper, Trindera Engineering, DCI Engineers, The Kaufer Co.
SERVICES: site design, site layout, planting design, irrigation design