A Visit to Kew Gardens
The Sherrys recently visited the UK for a couple of weeks, primarily to watch the Red Sox defeat the Y**kees (they didn't) and to tour around a beautiful land.  While we were there, we had the opportunity to visit Kew Gardens ("The Royal Botanic Gardens at Kew"), which celebrates its 260th year in 2019.
After a short ride on the train from London, we had a quick walk from the station to Victoria Gate and quickly found one of the works of Dale Chihuly on display nearby—the first of many we'd see out in the landscape and in the glasshouses, with more of his smaller works inside the North Gallery.  Kew and Chihuly have taken the opportunity to integrate his art into nature at Kew, greatly enhancing the impact of both, I think.  Chihuly's beautiful, thoughtfully-placed pieces can be found throughout the gardens, serving as both breathtaking sculptures and unique wayfinding elements.
A Little Bit of Everything
The variations of scale at Kew and the progression of a visitor through the gardens provide a beautifully wide variety of experience. One moment, you're enclosed in a garden path with towering Oaks and Horsechestnut and Cedars overhead, and the next you find you're on a straight path of a vista that seems miles long, terminating in either the Pagoda or the Palm House—and then you're surprised by the Treetop Walkway.
At about 60' above the ground, the 600' long loop gets you in the canopy of the mature trees. It sways a bit as you walk on it, reminding you that you're in the trees (don't look down if you're afraid of heights).  Constructed of Corten steel, it blends into the environment well, with unique railings which I later read are based on the Fibonacci mathematical sequence. I admit, I did not notice this pattern at the time, but after looking at our photos, I recognize a sort of sequence there.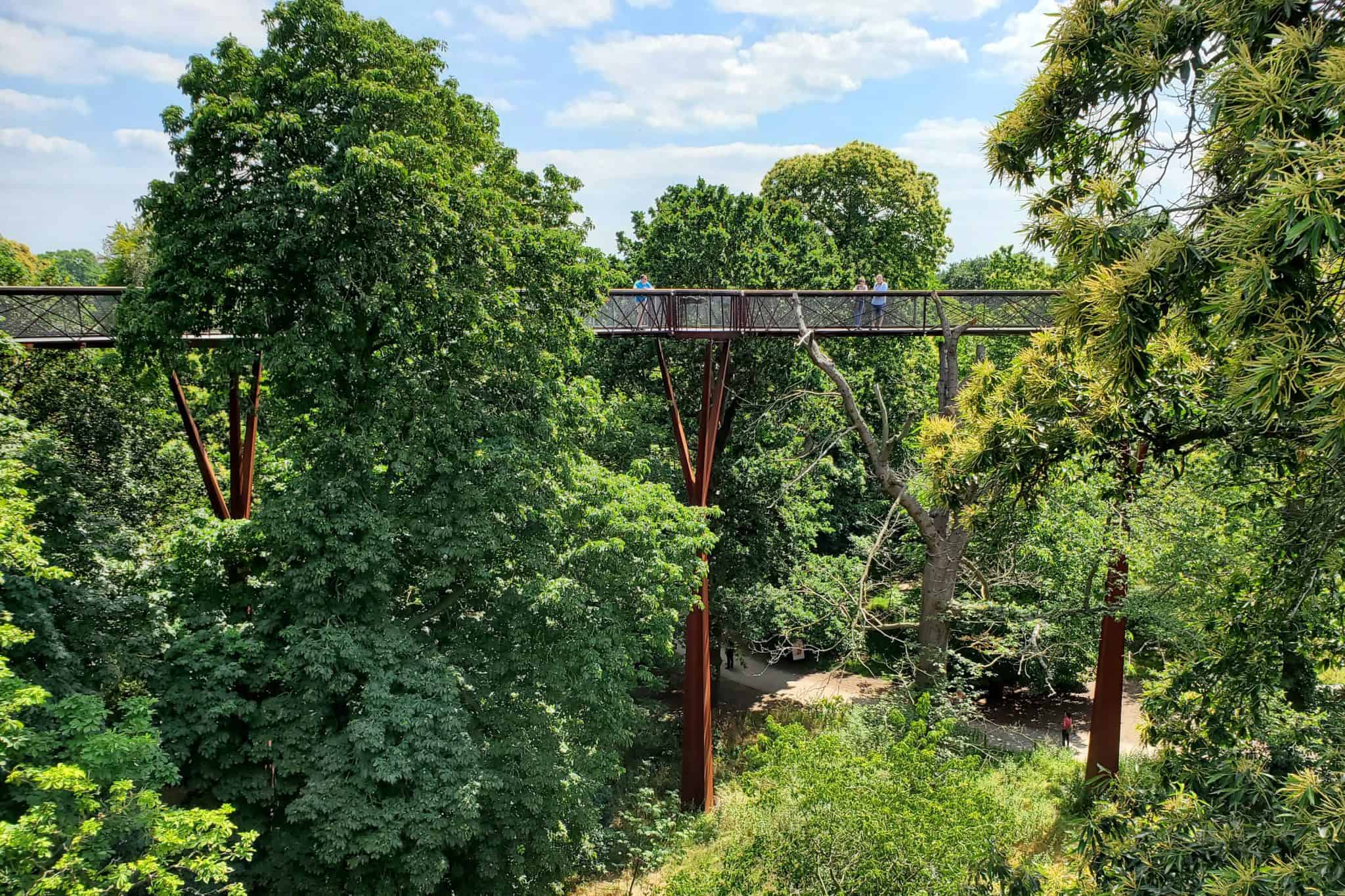 One of my favorite elements at Kew was the Sackler Crossing, a serpentine bridge set low over the lake, with Tupelo trees nearby.  The decking is granite planks (!!), but what I found striking was the barrier between the bridge and the water—a vertical bronze balustrade, not connected by rails, reminding me of cattails and reeds.  It's a perfect solution.
I could've spent another day at Kew, as we only covered about a third of the total area, in a five-mile walk. I hope to have the chance to visit again.
More stories from our adventures next time…